Since its establishment in 1881, the Wharton School of the University of Pennsylvania has been held up as an exemplary model for academic achievement in the field of business education. Its Master of Business Administration (MBA) program is a testimony to its dedication to cultivating future business leaders, entrepreneurs, and change-makers, and it serves as a tribute to this devotion. In this in-depth blog post, we will dig into the essential components that make the Wharton MBA program stand out, covering its distinctive characteristics, world-class faculty, cutting-edge curriculum, experiential learning opportunities, and the influence that its graduates have had on the business landscape throughout the world.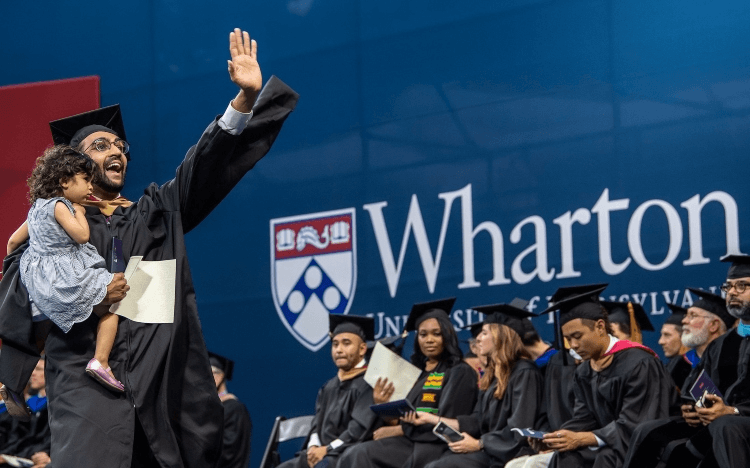 A Legacy of Excellence at Wharton MBA Program
One of the many reasons why Wharton's MBA program is so popular is because of its illustrious past, which dates back to the university's founding. Wharton, which has a history of more than a century, has always upheld its status as a premier institution for studying business. Alumni of this school have gone on to hold leadership positions at international businesses, launch profitable startups, and make significant contributions to the field of business. Wharton's long and illustrious history adds legitimacy and respect to the institution's Master of Business Administration degree, making it a valuable asset for graduates who are entering the competitive global job market.
Renowned Faculty
Wharton is not an exception to the rule that a school's faculty is the most important component of an outstanding educational institution. The faculty at this institution includes some of the most influential thinkers and working professionals in their fields. Wharton's teaching staff comprises individuals who have won the Nobel Prize, are among the world's leading scholars, and are seasoned professionals who bring a wealth of knowledge and experience to the classroom. Students get the chance to learn from some of the most brilliant minds in their respective disciplines. As a result, they may obtain insights that go beyond the confines of textbooks and into the issues that businesses face in the real world.
Customizable Curriculum
The adaptability of the Wharton Business School's MBA curriculum is one of the school's most notable strengths. Wharton acknowledges that every student has their own set of interests and goals for their future careers, and because of this, the school provides a diverse selection of optional classes and areas of concentration so that it may accommodate to each student's specific tastes. Wharton gives students the freedom to shape their academic experience in accordance with their interests, whether those interests lie in finance, entrepreneurship, marketing, or social impact, among other fields. This individualized approach helps students to build competence in the areas of specialization that they have selected, so preparing them for success in the professional pathways that they have decided to pursue.
Also read: Texas McCombs MSBA Program: Complete Overview
Experience of Learning That Is Completely Immersive
Wharton places a significant focus on experiential learning, which takes place outside of the conventional classroom environment. Students are given the opportunity to apply theoretical knowledge to real-world settings as part of the school's learning-by-doing concept, which helps them improve their ability to solve problems and make decisions. Students at Wharton have the opportunity to participate in immersive experiences both domestically and abroad through Action Learning initiatives, Global Modular Courses, and Industry Treks. During these experiences, students engage directly with business concerns and a variety of cultural contexts.
Wharton's Entrepreneurial Ecosystem
Wharton has been a breeding ground for many entrepreneurs, many of whom have gone on to revolutionize markets and sectors after graduating from the school. Aspiring entrepreneurs will find themselves in an encouraging setting thanks to the university's extensive entrepreneurial ecosystem. Wharton's Entrepreneurship Programs, which include the Entrepreneurship & Innovation major, the Wharton Entrepreneurship Advisory Board, and the Wharton Venture Initiation Program (VIP), provide students with financing, tools, and coaching to assist them in launching and growing their own businesses.
Perspective on the World
In the highly linked world of today, a global viewpoint is very necessary in the corporate sector. The MBA program at Wharton reflects this reality by including global perspectives into its coursework comprehensively. The rich diversity of the school's student body and professors, who come from all over the world, brings a wide range of experiences from other parts of the world to the table. In addition, Wharton provides its students with chances for global immersion through programs like as Global Business Week and Global Consulting Practicums. These programs give students experience in a variety of countries and cultures.
Placement of Emphasis on the Development of Leadership
The emphasis placed on developing leadership skills is key to Wharton's MBA curriculum. Wharton cultivates the next generation of ethical and visionary leaders by allowing them to participate in leadership workshops, executive mentoring, and team-based learning. In particular, the McNulty Leadership Program equips students with the skills necessary to take on difficult problems globally while also exemplifying the values of honesty and accountability to their communities.
Research that has an impact and thought leadership
The academics as well as the research centers at Wharton make major contributions to the advancement of business knowledge and practices. The ground-breaking research that the school does in a variety of sectors, including as finance, marketing, operations, and social impact, has a significant influence on the trends that the industry follows and the policymaking that is done. A vibrant and intellectually engaging atmosphere is fostered by Wharton's research output, which also enriches the MBA program with ideas that are on the leading edge of their fields.
A Dedication to the Value of Diversity and Inclusion
Wharton's dedication to diversity and inclusion can be seen throughout the entirety of the MBA program. The institution makes concerted efforts to provide an open atmosphere in which students coming from a variety of backgrounds are able to thrive and contribute their individual points of view. Within the Wharton community, a sense of belonging and togetherness is fostered by establishing programs and organizations such as the Wharton Equity, Diversity, and Inclusion Committee and student-led affinity clubs.
Powerful Alumni Network
Students enrolled in the Wharton Master of Business Administration program get access to a robust and extensive alumni network. Graduates of the Wharton School have access to this network, which can provide them with mentoring, employment prospects, and industry contacts. As a result of the broad network's presence across several countries and fields, it serves as an invaluable resource for one's own personal and professional development during the course of their career.
Conclusion
The Wharton Master of Business Administration (MBA) program is widely recognized as a model of excellence in the field of business education. This reputation is based on the school's illustrious history, illustrious faculty, cutting-edge coursework, and dedication to cultivating leaders who can effect good change in the world. Students at Wharton have access to a transformational educational experience as a direct result of the school's emphasis on experiential learning, global perspectives, entrepreneurial spirits, and diversity and inclusiveness. The enduring significance of an MBA from the Wharton School may be seen in the influence that Wharton graduates have had on the landscape of business across the world. Wharton continues to be at the vanguard of change as it pertains to the business world, equipping future generations of business executives with the self-assurance and specialized knowledge necessary to create the future.